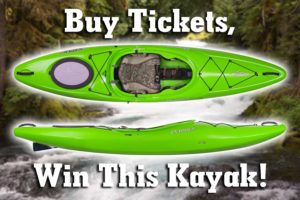 This year, we are raffling off a brand new Dagger Katana kayak (click link for specs & info)!  Tickets are on sale NOW to win this boat and here's how it works:
$1 = 1 TICKET
$10 = 12 TICKETS
$20 = 25 TICKETS
$40 = 50 TICKETS
$100 = 125 TICKETS
etc, etc, etc….
This is our grand prize but we also have lots of awesome runner-up prizes to hand out so make sure you're grabbing some tickets even if you're not an OMP member.  All proceeds go to fund one awesome club and helps to save our waterways.  Your club president (Marty Zerr) will have tickets on him at all times from now until our July Members Meeting.  If you're interested, show up anywhere the boat will be, such as OMP's monthly meetings at the Springfield Nature Center, Roll Classes at the Good Samaritan Boys Ranch, Whitewater Clinic at the Mulberry River, or any other OMP event.
Ozark Mountain Paddlers would like to give a BIG THANK YOU to the Ozark Mountain Trading Co. for donating this boat! For more info and specs on this boat please visit .  THE RAFFLE DRAWING FOR THIS BOAT WILL BE AT OUR JULY MONTHLY MEMBERS MEETING ON THURSDAY, JULY 12TH!
{ 0 comments }