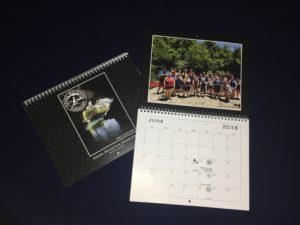 We are proud to announce that our 2018 OMP Calendars are ready for purchase!  Each month features:
Photos of each month's photo contest winners
OMP events (Member's Meetings, Roll Clinics, Whitewater Clinic)
Holidays
General purpose dates (Daylight Savings Time, Starting Seasons, etc.)
Lunar Events (Full and New Moons)
We are selling these for $15 each, we will have them ready to sell at the upcoming X-Mas party and at our next monthly meeting at the Springfield Nature Center (January 11th at 7 p.m.)!  You can purchase these at any of our OMP events or you can contact one of our board members for further information.  Sorry, no special deliveries for these!
NOTE: These calendars are: 11″ W x 8.5″ H, spiral-bound, and printed on satin card stock . Only 25 available so get them while you can!