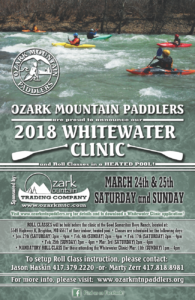 UPDATE: We will NOT be featuring a Swiftwater Rescue Class this clinic.  There was conflict of scheduling with our instructor.  We apologize for the inconveniences this has caused…
The 2018 OMP Whitewater Clinic is on March 24th & 25th (Saturday & Sunday) on the Mulberry River at Turner Bend in Arkansas (CLICK HERE FOR DIRECTIONS).
 **NOTE: camping is available Friday night.**
We are now accepting applications for students wanting to participate in our available classes.
  !!!CLICK HERE TO DOWNLOAD YOUR APPLICATION!!!
The OMP Whitewater Clinic includes:
• a classroom/pool session prior to the clinic
• two days of river instruction
• camping Friday and Saturday night at Turner's Bend campground
• a riverside gourmet dinner on Saturday night
• souvenir clinic T-shirts for clinic participants
• a "continental breakfast" on Sunday morning
You must provide your own equipment, preferably a whitewater kayak or canoe and accessories.  For further information, please download an application -or- contact one of following board members:
• Marty Zerr • president@ozarkmtnpaddlers.org
  
-or- call 417.818.8981
• Jason Haskin • vicepresident@ozarkmtnpaddlers.org
  
-or- call 417.379.2220
• David Jackson • website@ozarkmtnpaddlers.org 

  -or- call 417.342.3906
**NOTE: This location is subject to change IF the water levels are too high or too low**
See what our clinic is all about by watching the video below, brought to you by SkiniKid Productions.