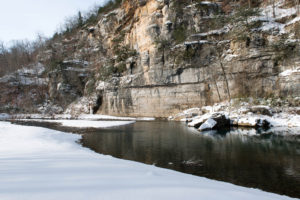 On Febraury 24th-25th (Saturday & Sunday), join your host Ed McClung on the Buffalo River (Dillard's Ferry (Hwy 14 bridge) to Rush, = 9 miles). **NOTE: This section is still subject to change IF there is a change in rainfall and water levels. Contact Ed if you are interested in this float and he will update you from here on.**
The plan is for this to be an overnight trip with the option of being a day trip. Ed is planning to camp on the river overnight and intends to get off the river on Sunday around noon.
Please contact Ed McClung at 417-766-7960 -or- eddyguy912@hotmail.com.
SORRY FOLKS, THIS FLOAT HAS BEEN CANCELLED DUE TO HIGH WATER, FURTHER LEADING TO LACK OF INTEREST…