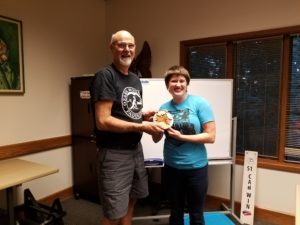 The James River Basin Partnership has honored Ozark Mountain Paddlers for our organization's commitment to our region's ecosystem, recreation, and water safety by presenting the 8th award in celebration of JRBP's 20th Anniversary for "Community Connection". CLICK HERE for our official award posting and Q & A feature.
The award was presented by Christa Gammon (James River Basin Partnership's Membership & Marketing Manager) at OMP's September Member's Meeting at the Springfield Nature Center which was followed by OMP member's: Howard Greenwood and Daniel Brawn's presentations speaking about their recent experiences with the MR340 race.
Thank you James River Basin Partnership for this award and recognition and thanks to all who attended last night's member's meeting!