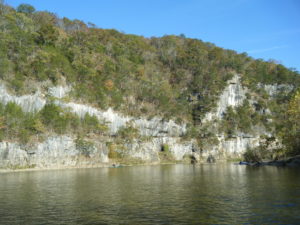 On September 23-24th (SATURDAY & SUNDAY), join your host, David Jackson, on the Current River (Round Spring to Two Rivers = 18 miles) for an overnight float. 
We will be meeting at the Walmart Neighborhood Market on S. Campbell Ave. at 7:00am to caravan out to Round Spring. The club will be supplying a meat/main course (marinated chicken breast) for dinner on Saturday night, all other meals will be up to you. OMP will be paying for half of the shuttle price (those attending and wanting to be shuttled will need to bring $5 to be able to catch a ride back to Round Spring (the put-in), shuttle provided by Two Rivers Canoe Rental).
TO CLARIFY: We will be driving from the meeting spot in Springfield to Round Spring.  We will drop all of our gear (paddling, camping, etc.) off at the put-in. We will drive (everyone that has a vehicle) to Two Rivers (take-out).  David will collect $5 from each person that drove then David will pay for the shuttle with the collected money and club funding, we will all pile into Anita's (Two Rivers Canoe Rental lady) shuttle vehicle, Two Rivers service will then drive us (an only us) back to the put-in. Once at the put-in, we will then begin to enjoy our weekend together!
Contact David Jackson at 417.342.3906 -or- website@ozarkmtnpaddlers.org for a dinner headcount (no later than September 20th) and more info.