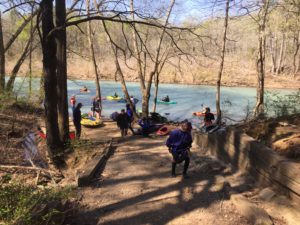 Thankfully, the weather has cooperated in our favor! As of now (March 30th, at 11:20am) the USGS gauge for the Mulberry River is reading 4.4ft, Turner Bend's gauge is showing 4.0.
The weekend forecast is looking good too!
FRIDAY: HIGH of 71˚F, LOW of 50˚F, Partly Cloudy, less than 10% chance of rain.
SATURDAY: HIGH of 73˚F, LOW of 56˚F, Sunny All Day!
SUNDAY: HIGH of 66˚F, LOW of 55˚F, Scattered Thunderstorms, 90% chance of rain but the greatest risk is after 3:00PM.
We are looking forward to having everyone down at Turner's Bend campground and on the water!  See you all at camp!