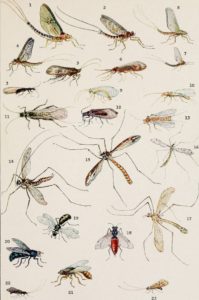 Interested in helping test out some light-trapping kits for river insects? Collect mayflies, stoneflies, caddisflies, and other insects this summer on your overnight float trips by picking up one of Deb's ammo-box kits from Marty's garage.
The kits are super-compact for storage in your boat of choice and include simple directions for setting up and running the trap at dusk at your riverside campsite. By participating as a citizen scientist, you will help the MSU Stream Ecology lab develop a protocol that will hopefully continue to be used for years to come to understand species distributions of cool aquatic insects living in Ozarks rivers. They are diverse, beautiful, and, best of all, THEY DON'T BITE.
Contact Marty Zerr (president@ozarkmtnpaddlers.org) or Deb Finn (dfinn@missouristate.edu) with any questions, and thanks in advance for your participation!